What if
I LED WITH PURPOSE AND AUTHENTICITY?
What if
I MASTERED EMOTIONAL INTELLIGENCE?
What if
I INSPIRED TEAMWORK WITHOUT NEEDING CONTROL?
What if
I FOUND FULFILLMENT IN SERVING OTHERS?
Scale and growth Strategic Advisor
Design Thinking Mastermind
Fractional COO/CRO/CMO
Tullio Siragusa
Founder of Inventrica Advisory, leads transformative business endeavors and pioneers disruptive technologies. As a Strategic Advisor, Fractional COO/CRO, dynamic speaker, author, and EQ coach, Tullio remains steadfast in his advocacy for human-centric innovation and cultivating organizations rooted in purpose.
Marrying the principles of Design Thinking with the insights of Force Field Analysis, he uncovers the very core of business dynamics. His signature bottom-up approach to OKRs has been instrumental in orchestrating revenue-boosting strategies while nurturing a culture of collaboration.
His commitment to promoting a human-centric approach to innovation is further underscored by his role as an Advisory Board Member to the University of California, Riverside, Design Thinking Executive Program. Moreover, as a founding member of Radical Purpose.org his ethos is clear: Empathy isn't just a trait, but an imperative in shaping both business and life.
Design Thinking Driven GTM Tactics White Paper
Design Thinking is a problem-solving approach that focuses on understanding the needs and wants of people, and then creating solutions that meet or exceed those needs, with an emphasis on applied empathy.
Sales enablement, on the other hand, is the process of equipping sales teams and marketers with the tools, resources, and knowledge they need to effectively sell a product or service.
When these two concepts are combined, they can be used to improve go-to-market (GTM) tactics, making them more effective and efficient.
This approach can increase sales, improve customer satisfaction, and drive business growth.
Download a complimentary copy of a white paper dedicated to how you can leverage Design Thinking and sales enablement programs to dramatically improve your GTM tactics.
Design Thinking Driven Software Development White Paper
Revolutionizing Software Development with Design Thinking
There is a better way to develop software based on a continuous loop methodology. Introducing the Design Thinking Software Development Method.
Design Thinking puts the focus on executing the product by understanding the core needs of users, even before diving into the development cycle, and continues to do so ongoing.
This facilitates the validation of ideas through a tight feedback loop with users, ensuring that the product aligns with their needs and demands, resulting in improve adoption.
Tullio's presence has been helpful at critical junctures. I feel he can guide the C-Suite to become their very best. Having been a recipient of Executive Coaching previously, one can't help but recognize quality when one encounters it. I have been impressed with how Tullio has a balanced view of business i.e., intellect & heart. Reliability is one of his strongest attributes.
Rahul Reddy, CEO @ Healthera.Ai
Tullio will spark up your curiosity, challenge you, and inspire you as a leader and human being.
Keith Fiveson, Founder @ Work Mindfulness
Tullio's experience is what you want to have access to with a strategic advisor. Tullio introduced us to systematic quarterly planning with OKRs we implemented across the company, which has enabled us to have alignment in focus around the things that matter most to a growing start up: revenue. He also helped us focus our sales efforts by putting in place sales enablement focused on driving demand.
Eddie Hudson, CEO @ Divelement
You might think that "stories" or "branding the why" are useless topics or reserved for large "Silicon Valley" startups. Think again! Tullio not only shows you why those topics are so crucial, but he also brings you the organization and the tools to implement them into your structure. He will help organize goals for your company, strengthen your branding using Design Thinking or fine tune the Go-To-Market messaging.
Igor Vujic, Director @ Genius Academy
It was a pleasure having Tullio in our office speaking on the importance of being accountable and building a team you can trust. I love how he incorporated our core values into his presentation- it made it more relatable. I'm looking forward to bringing back the energy Tullio brings with him everywhere he goes.
Tanya Bustamante VP, Human Resources @ ConsumerTrack Inc.
Tullio is a fantastic speaker. He has trained cohorts at our Expert DOJO accelerator and he is engaging and gets the point across. My students loved him and gave 5 star reviews across the board. Highly recommend.
Brian Mac Mahon, Founder & CEO @ Expert DOJO
Working with Tullio as a life coach was life-changing. We developed a mantra, broke through old patterns, created new ones and clarified my goals in life. I highly recommend him!
Dr. Kay Hooshmand MD,

Life Coach Guest of Rant & Grow Podcast
Tullio is a very energetic and enthusiastic speaker. He is highly engaging. His talks are very clear and accessible. Most importantly, he speaks from his heart to every one in the room.
Matt Perez, Co-Founder & COO @ Nearsoft
Your compassion, your professionalism, and you just being you made it a wonderful life coaching experience. Your advice has helped me greatly.
Rocky Rosen, 

Life Coach Guest of Rant & Grow Podcast
Tullio connects with his audience on a very personal level. He speaks from the heart and empathizes with diverse groups. He transmits his energy and can direct an audience to achieve a common goal. He brings ideas to life and guides his listeners to stretch their minds.
Sandra Vazquez, Business Development @ Nearsoft
Tullio is a brilliant and capable professional, but also a great human being with a sense of caring for others that is not common nowadays. My coaching with him has helped me greatly to become more aware not only of my barriers, but to set the foundations for a way out.
Carlos Ponce, 

Life Coach Guest of Rant & Grow Podcast
Tullio has a way of speaking to a crowd and helping those who can't see the forest from the trees to see the entire forest. He has a way to show pictures and metaphors so that your mind comes to life and he has a way to help you feel your individual power.
Jill Reed, CEO @ Jill Reed Associates
Tullio is as kind, wise and real as it gets. As a life coach he sees the best in everyone and can really help you be and do your best.
Bill Funt, 

Life Coach Guest of Rant & Grow Podcast
I have had Tullio speak and mentor. He is one of those rare individuals that can bring value to anyone open to improving themselves.
Daren Raskin, President  @ Raskin Engineering
My face to face coaching session with Tullio was well worth my time and effort. I appreciated Tullio's understanding of what business leaders experience throughout their career. His questions and observations helped me to clear away much of my stress which was affecting my performance.
Daniel Kane, Co-Founder  @ Propulsion Dynamics
Tullio delivered a lecture about Freedom-Centered Work Cultures for students of the Institute of Economics and Management of Tomsk State University. The audience was inspired by an interesting and non-trivial performance. He gave a great presentation!
Anna Yaroslavtseva, Graduate Student  @ Tomsk State University
Tullio helped me forget the corporate mentality of the "boss-employee" relationship. He cheered me on and proved to be a leader who cares.
Lino Ramirez, Designer @ Density Labs
Tullio's lecture was very interesting. He is a fantastic speaker. I saw him during the Expert DOJO acceleration program for my startup in Santa Monica, CA. He presented a very interesting approach to branding tied to values and purpose.
Maurizio Piredda, Founder & CEO @ Bautiful
Tullio is a dynamic leader. His ability to develop trusted relationships is unparalleled. I feel privileged to have worked with him.
Scott Kohn, Managing Partner @ Computer Science Corporation
An insightful, and progressive digital marketing executive, a thinker and planner, Tullio brought a world view to the American Teleservices Association (ATA) members that had members stand up and applaud. He is in a class of his own.
Keith Fiveson, Founder & CEO  @ ITESA
Tullio is a high powered executive that can come into any situation and create a successful outcome.
Lorne Brown, Founder & CEO  @ Operative
I had the opportunity to participate in a workshop facilitated by Tullio. He helped us realize that sometimes what is holding us back is ourselves and the real blocker is the tone we are giving our thoughts. He created a truly safe place to be vulnerable and grow.
Ana Reynoso, People Developement & HR  @ Nearsoft
Working with Tullio was an amazing experience. I was feeling pain from my recent breakup. With some encouraging and memorable words about my situation, he made see that I have the power to do and change anything in my life.
Carina 

Kalaydjian

, 

Life Coach Guest of Rant & Grow Podcast
Tullio is a consummate professional. He is responsive, thorough and always operates from a place of integrity.
Randy Wooton, CEO  @ Percolate Inc.
To say my life coach session with Tullio was a transformative experience is an understatement. Tullio's ability to help you breakthrough is a gift and I have been uplifted and changed.
Eric Faison, Founder  @ Hoop News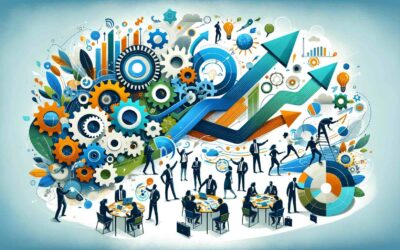 In the ever-evolving terrain of business, leaders constantly seek the alchemy that turns challenges into strategic opportunities. The quest for this transformation often leads to the adoption of various methodologies designed to dissect complex problems and distill...
read more
A no problem context is about being committed to excellence, to leadership, and to becoming the go-to-person who serves with integrity.